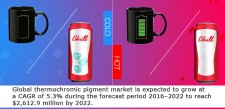 With its recently published study "Thermochromic Pigment: Drivers, Opportunities, Trends, & Forecasts: Up to 2022", Infoholic Research forecasts that the global market for thermochromic pigment will continue to increase owing to the increased exposure of application areas in the underdeveloped and developing countries.
Bangalore, India, April 17, 2017 (Newswire.com) - Thermochromic pigment has the property of color change based on the change in temperature. With this unique property, it has been used majorly in printing and coating solutions. The increased usage of thermochromic pigment in the packaging of products, where quality can be measured with detection of the change in temperature, will expand its market in both developed and developing countries. Further, increasing market penetration in developing countries would also increase the market potential giving a boost to market growth expectations. This trend is expected to continue during the forecast period 2016–2022 to further increase thermochromic pigment market at a CAGR of 5.3% reaching $2,612.9 million by 2022.
Request sample of the report
"Thermochromic pigment is a heat sensitive pigment that changes its color based on the temperature. These are sub-category of high-performance pigments, which can be associated with the life quality, disposable income, and health indicators. Thermochromic pigments are used in packaging to detect the temperature based quality, e.g. coldness of beer or hotness of pizza delivered. Growth in packaged food market and increased consumer awareness are expected to further increase this market in the coming years, especially in the developing regions where demand for packaged food is just picking up."

Pooja Singh, Research Analyst
@ https://www.infoholicresearch.com/request-a-sample-report/?repid=5439
Ink printing is contributing the most towards the thermochromic pigment market in North America and is the largest segment in global demand as well. This trend is expected to continue during the forecast period as well. The ink printing segment is expected to grow at a CAGR of 5.7% during the forecast period 2016–2022.
The reversible thermochromic pigment is a premium product and is mostly used in decorative coating and printing. Due to higher cost, the reversible thermochromic pigments have limited market opportunities when compared to irreversible ones. However, the higher market prices compensate and provide a higher market share to irreversible pigments in the overall market.
Buy complete report on Thermochromic Pigment Market – Drivers, Opportunities, Trends & Forecasts up to 2022
@ https://www.infoholicresearch.com/report/thermochromic-pigment-market-trends-forecasts-2022/
"Thermochromic pigment is a heat sensitive pigment that changes its color based on the temperature. These are sub-category of high-performance pigments, which can be associated with the life quality, disposable income, and health indicators. Thermochromic pigments are used in packaging to detect the temperature based quality, e.g. coldness of beer or hotness of pizza delivered. Growth in packaged food market and increased consumer awareness are expected to further increase this market in the coming years, especially in the developing regions where demand for packaged food is just picking up," said Pooja, Research Analyst
Key areas covered in the report
Global thermochromic pigment market has been analyzed based on application areas

Paint & Coating

Ink Printing

Plastic

Others (such as cosmetics)

The study constitutes a classification based on type

Industry outlook: market trends and drivers, restraints, and opportunities
Source: Infoholic Research LLP
Share: