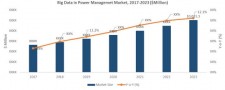 The deployment model, such as private, public, and hybrid cloud, is boosting the big data in power management market. Additionally, the rising demand from SMEs and governments, economic growth, and scalable resources are the prime factors driving the growth of the big data in power management market.
Bangalore, India, October 16, 2017 (Newswire.com) - ​Infoholic Research LLP, a global market research and consulting organization, has published a study titled "Big Data in Power Management Market – Global Drivers, Opportunities, Trends, and Forecasts to 2023" (August 2017).
According to Infoholic Research, the big data in power management market will experience significant growth during the forecast period due to the increasing demand for high-performance computing, increasing reliability, stability, and supportability, reduction in ongoing cost and elimination of capital expenditures, and better security. The market is expected to grow at a CAGR of 11.4% during the forecast period 2017–2023 to touch an aggregate of $10,031.3 million by 2023.
"The big data in power management market is an attractive space for technology providers, investors, service providers, application providers, and content providers to expand their business in core operations. The solutions segment holds enormous opportunities in the next 5-6 years due to the rising penetration of cloud adoption, digital technology, IoT, and advanced technologies. This drives the big data in power management market during the forecast period."

Pradeep Singh, Senior Research Analyst at Infoholic Research
Request for sample of the report
@ https://www.infoholicresearch.com/request-a-sample-report/?repid=6686
Big data has become a buzzword in the IT world and is moving toward intelligent systems and IoT. It can be considered as a movement toward providing more support to software and intelligence systems to control different types of multi-piece business systems. In such an environment, the big data software could control, manage, and automate the entire business transaction data and process through a variety of big data software tools and services. The big data software tools and services include visualization and analytics-as-a-service. Furthermore, Hadoop products and tools can be delivered as a service and offer organizations with flexibility, scalability, added speed, and savings on capital and operational expenditure.
The umbrella term incorporates several big data software and services such as System Software, Hadoop Distribution Products and Tools, Discovery & Visualization Tools, Database Software, Big Data Analytics, Hadoop-as-a-Service (HAAS), Visualization & Analytics-as-a-Service, Training and Professional Services, Deployment & Integration Services, and Consulting Services. The big data in power management market has been segmented based on types, deployment models, end-users, and regions.
North America holds the major market share as the region is said to be the world's largest region for big data and cloud adoption. Europe stands next to North America as the increasing customer awareness and maturity of big data and cloud services in this region are impelling a phased migration from on-premises-based solutions to a cloud environment. The region is expected to see growth and the UK, Germany, France, Spain, and Italy are supporting the region's economic growth. In Asia Pacific, more than 60% of the companies are planning to adopt both on-premises and cloud-based models. MEA is the fourth-fastest growing region in the world. Moreover, Latin America is set to be the emerging market for big data in power management due to the transition from traditional on-premises deployment to the cloud-based deployment of various solutions across industries.
"The big data in power management market is an attractive space for technology providers, investors, service providers, application providers, and content providers to expand their business in core operations. The solutions segment holds enormous opportunities in the next 5–6 years due to the rising penetration of cloud adoption, digital technology, IoT, and advanced technologies. This drives the big data in power management market during the forecast period." – Pradeep Singh, Senior Research Analyst at Infoholic Research
Buy complete report on Big Data in Power Management Market – Global Drivers, Opportunities, Trends, and Forecasts to 2023
@ https://www.infoholicresearch.com/report/big-data-in-power-management-market-global-drivers-restraints-opportunities-trends-and-forecasts-to-2023/
The report aims to highlight key insights from the providers and end-users. The report provides an in-depth analysis and forecast about the industry covering the following key features:
This report not only highlights users' conundrum (challenges and barriers to adopting big data in power management) but also brings in their perspective on the market
The market has been analyzed by considering the key regions, namely North America, Europe, Asia Pacific, Latin America, and Middle East & Africa
The report provides industry outlook including current and future market trends, drivers, restraints, and emerging technologies
The report analyzes the big data in power management market according to the deployment models, software, services, end-users, and regions
The report analyzes the top 10 players in terms of market reach, business strategy, and business focus
The report provides stakeholders' insights and key trends (current and future) of the market
Press and Media Contacts
Bhaskar Jyoti Nath

Infoholic Research LLP

+91-80-22222833, +91- 8867685927
Source: https://www.infoholicresearch.com/big-data-in-power-management-market-to-touch-10031-3-million-by-2023/
Share: