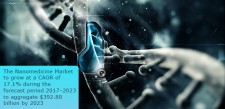 Nanomedicine has the potential to be the future in biotherapeutics replacing the older versions of drug delivery.
Bangalore, India, April 10, 2017 (Newswire.com) - Infoholic Research LLP, a global market research and consulting organization, has published a study titled "Global Nanomedicine Market – Drivers, Opportunities, Trends, and Forecasts: 2017–2023".
According to Infoholic Research, nanomedicine is the future with new revenue stream in the healthcare industry. Nanomedicine could provide cost-effective novel therapies and diagnostics using the empowering capacity of nanotechnology applied in the healthcare industry. Nanomedicine could increase the efficiency and diminish the side effects unlike the other tender therapies for any particular condition. The elementary principles of this technique are based on the targeted drug delivery using nanoparticles (such as nanorobots), proper analysis using sensors and micro electro mechanical system (MEMS), and to diagnose in vivo biochemical activities. The result is an increasingly better understanding of the molecular biology of diseases leading to new targets for more specific and earlier diagnostic and therapeutic treatments. These new options will cause profound changes in future healthcare systems by enabling more personalized, regenerative, and remote medicinal activities. According to Infoholic Research, the "Global Nanomedicine" market is expected to grow at a CAGR of 17.1% during the forecast period 2017–2023 to touch an aggregate of $392.80 billion by 2023.
"Although, the market is experiencing a lack of well-defined FDA directives, which can restore standardization in the field of nanomedicines and related subjects, nanotechnology funding is expected to increase significantly during the forecast period with the increasing investments from government and private sectors."

Victor Mukherjee, Assistant Manager (Research - Healthcare) at Infoholic Research
Receive a sample of the report
@ https://www.infoholicresearch.com/request-a-sample-report/?repid=4654
The Global Nanomedicine market is analyzed based on two segments – application areas and regions. The regions covered in the report are the Americas, Europe, Asia Pacific, and Rest of the World (ROW). In the Americas region, the US and Canada are set to be the leading countries. The Europe is set to be the second leading region and holds more than 23% of the market share in 2016. Germany is one of the leading countries in Europe in terms of revenue. In Asia Pacific, Japan is the most attractive country for the players and holds huge business opportunities. The ROW is set to be an emerging market in the next 5–6 years.
The application areas covered in the report are Oncology, Cardiovascular, Neurology, Anti-inflammatory, Anti-infective, and other therapeutics. The Cardiovascular, Anti-inflammatory, and Neurology application segments are expected to gain more market share by 2023. The market is expected to be on a positive year on year growth rate, as the Cardiovascular and the Neurology segments have just started to see wide-scale adoption in the field of nanomedicine. The Oncology segment is expected to generate revenue of $144.00 billion by 2023.
"Although, the market is experiencing a lack of well-defined FDA directives, which can restore standardization in the field of nanomedicines and related subjects, nanotechnology funding is expected to increase significantly during the forecast period with the increasing investments from government and private sectors." – Victor Mukherjee, Assistant Manager (Research – Healthcare) at Infoholic Research
Buy complete report on Global Nanomedicine market – Drivers, Opportunities, Trends, & Forecasts 2017 – 2023
@ https://www.infoholicresearch.com/report/global-nanomedicine-market-trends-2017-2023/
Further, the report also aims to cover the below points:
Provides an in-depth analysis of the key business opportunities in countries and verticals
Provides the complete details about the various types of nanomedicine drugs overview
Provides the complete details about the analysis of top 16 players
Provides industry outlook including current and future market trends, drivers, restraints and emerging technologies
Market is analyzed by countries – the US, Germany, Japan, and Others
Source: https://www.infoholicresearch.com/the-nanomedicine-market-to-gro
Share: