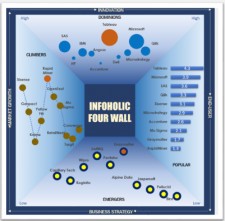 Bangalore, India, April 24, 2017 (Newswire.com) - ​​​Infoholic's Four Wall Advanced Analytics Market Analysis - 2017 includes these Key Updates:
1. Microsoft: Has moved up to second position in the dominions quadrant, last year the company was placed at 3rd position. Microsoft has significantly increased the reach of its advanced analytics offerings through new/emerging domains such as IoT.
The company has made several acquisitions in the recent pass, this has further strengthened its position in the advanced analytics domain.
2. Dell: This year Dell has figured in the 'dominions quadrant' as compared to last year's mention in the 'climber's quadrant'. Dell has substantially improved and updated functionality of its advanced analytics offerings as a result of which the company has gained popularity amongst business users.
Key functionality updates include advanced text analytics through the integration of Kitenga and an embedded visualization engine.
3. Accenture: This year the company has moved to the 'dominions quadrant' from the 'climber quadrant'. Accenture's growth is mainly attributed to its targeted acquisition strategy. The company has acquired OPS rules to strengthen Its Machine Learning and Operations Analytics Capabilities.
Some of the new entrant are:
1. Greymatter: is one the key emerging players in the advanced analytics domain. The company offers advanced UI functionality for creating effective dashboards and also leverages on offerings such as vertical specific pre-built solutions. The company has AA+, a pre-built enterprise wide analytics solution for Airport Operator deployed at 7 international airports globally.
2. Mu Sigma: It has aggressively placed its product thereby placing itself as an emerging company.
3. Birst:, Birst is considered a true networked business analytics platform. Capabilities such as higher degree of connectivity and easy scalability make the platform popular.
Differentiators and Advantages:
· Significant weightage on user's feedback on building evaluation matrices.
· Adequate representation of data because of robust sample (500 user) across geography.
· Validate competitive position through our unique and rigorous method.
· Provide you an unbiased view through end user's eyes.
Overall: A unique marketing collateral
About:
Infoholic Four Wall provides a unique distinguishable process of identifying major players/vendors in a market on a given segment. It's a culmination of research for a market/product/service/solution, giving a holistic view of the relative positions of the market's competitors. The differentiation comes here from the fact that analysis is done on four major parameters i.e. Business Strategy, Market Growth, Innovation and survey amongst users on various parameters
Each player has been measured on the above-mentioned parameters and have been given a specific position on the wall. The walls are:
1."Emergers", the first wall represents players who are niche and small. These players are either new to market or have just plunged into that segment (with a limited revenue). These players have the penchant for dominating the market.
2."Climbers", the second wall represent players who have a revenue greater than "Emergers" but have been in market longer than them with a greater revenue and market share. These players have a certain understanding of the market but have not yet achieved a total dominance.
3."Dominions", the third wall is representation of the players who have a long vision and have executed their strategy well. They have a long-term focus giving them a competitive edge.
4."Popular", the fourth wall representation is purely based on end users input (CxO level) across regions. This has been achieved through a set of questionnaires and telephonic interviews with respective strategic decision makers.
Source: https://www.infoholicresearch.com/
Share: