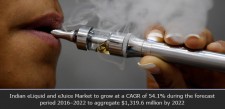 Growing health concerns, affordable price, and easy availability of eLiquid & eJuice products are expected to drive the market. The offline distribution channel is expected to grow at a CAGR of 54.4% and reach $1,042.5 million by 2022.
Bangalore, India, April 12, 2017 (Newswire.com) - Infoholic Research LLP, a global market research and consulting company, has published a study titled "Indian eLiquid and eJuice Market – Drivers, Opportunities, Trends, and Forecasts: 2016–2022".
According to Infoholic Research, in India, electronic cigarettes (eCigarettes) are quickly gaining popularity. It has been proved that eCigarette is 95% less harmful when compared to the normal cigarettes.Currently, eLiquid and eJuice business is at the nascent stage. The increasing young population, changing consumer's lifestyle, growing demands, and spending activities have led the demand for eLiquid and eJuice products in India. Consumers are buying eJuice and eLiquid products more in convenience stores when compared to online channels. The fact that Punjab and Maharashtra governments have banned the eCigarette production and sales activities has impacted the growth of these products.
"The eLiquid and eJuice are less harmful when compared to traditional cigarettes. The state governments' rules & regulations and huge tax are considered the key challenges for the market growth. Further, awareness programs about the eCigarette are expected to lead the market in the near future."

Jaydeep Bhattacharjee, Group Head at Infoholic Research
Recently, the Indian government has announced that 85% of pictorial warnings should be mentioned on traditional cigarette packs, which may increase sales of eLiquid and eJuice products in the coming years. At present, less than 1% of the traditional smokers are moving towards the eCigarettes and the number is expected to increase at a regular pace. The market is expected to grow at a CAGR of 54.1% during the forecast period 2016–2022 to aggregate $1,319.6 million by 2022.
The Indian eLiquid and eJuice market is analyzed based on product type, distribution channels, location, and demography. The major share of the revenue comes from pre-filled products as the users often prefer refillable or replaceable eLiquid. The distributed channel segment includes online and offline (pan shops, drug shops, & small retail outlets). Consumers are likely to purchase the products in the offline mode – retail outlets, vape shops, and convenience stores due to the easy availability of the products.
Receive sample of the report
@ https://www.infoholicresearch.com/request-a-sample-report/?repid=4404
In demography segment, 24–35 years' age group and 36–45 years' age group hold the majority of the share and male smokers segment market revenue are the largest group among the consumers as they hold a good knowledge about products/brands available in the market and have higher disposable income level when compared to other age groups.
"The eLiquid and eJuice are less harmful when compared to traditional cigarettes. The state governments' rules & regulations and huge tax are considered the key challenges for the market growth. Further, awareness programs about the eCigarette are expected to lead the market in the near future." – Jaydeep Bhattacharjee – Group Head at Infoholic Research
"Currently, Indian eLiquid and eJuice market is at a nascent stage and is expected to grow in the upcoming years. The tobacco providers can consider this market as new revenue streams in order to increase their product categories." – Bhavya H, Senior Research Analyst at Infoholic Research
Buy complete report on Indian eLiquid and eJuice Market – Drivers, Opportunities, Trends, and Forecasts: 2016–2022
@ https://www.infoholicresearch.com/report/latest-india-e-liquid-and-e-juice-market-trends-2016-2022/
The report aims to highlight key insights from providers and end-users. The report provides an in-depth analysis and forecast about the industry covering the following key features:
The report not only highlights users' conundrum (challenges and barriers to adopting eLiquid and eJuice) but also brings in their perspective on the Indian eLiquid and eJuice market
The market has been analyzed by taking into account the tier 1 cities and tier 2 cities
The report analyzes the market according to types, distribution channels, demography, and location
The report analyzes the top 12 players in terms of market reach, business strategy, and business focus
Competitive benchmarking analysis to optimize short term and long term strategy of the organizations
Stakeholders' insights and key trends (current and future) of the market
Source: Infoholic Research
Share: