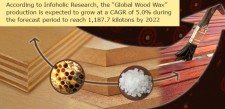 Bangalore, India, April 5, 2017 (Newswire.com) - With its recently published study "Wood Wax: Drivers, Opportunities, Trends & Forecasts up to 2022", Infoholic Research forecasts that the global market for wood wax will continue to increase owing to increasing penetration of wood wax in the underdeveloped and developing countries.
Paraffin wax is the most easily available wood wax among others with relatively cheaper price and has applications mainly in the panelboards. Increased manufacturing and construction projects, both commercial and non-commercial, in developing countries, supported by higher usage of panelboards in buildings, will expand the wax market during the forecast period.
"Wood wax is one of the basic components in the complex formulations used for coatings, lubrication, and fillers among many others. Paraffin wood wax, being cheaper, is widely used in panelboards & wood coatings, and has majority of the market share. Bees wax and carnauba wax are budding, eco-friendly and premium range products, largely used in wood coatings. Green and the environment-friendly chemical trends are driving the market growth for them. Asia Pacific, currently dominates the wood wax market owing to higher manufacturing bases and increased usage of paraffin wood wax.

Susmita, Research Analyst
Download PDF For this report
@ https://www.infoholicresearch.com/request-a-sample-report/?repid=5443
The implementation of stringent government regulations will further add to the market expansion at the global level. This pattern is expected to continue during the forecast period 2016–2022 to increase wood wax market with a CAGR of 5.0% reaching 1,187.7 kilotons by 2022.
Natural waxes are also available but at a relatively higher price. Animal and vegetable waxes have found their major application in wood coatings, lubrication, among many others. Awareness among people for safer environment and introduction of government policies for use of low VOC content products have been increasing the demand for natural wax. Premium prices are restricting the market of natural wood wax in the lesser economic countries, although it is expected that, bees and carnauba wood wax markets will show a high growth rate during the forecast period.
Panelboards have high demand in developing countries such as China and India due to an increase in the manufacturing base and higher economic growth in the recent years. This trend is expected to continue with medium density fiberboard and particle board contributing to more than 80% of the market during the forecast period.
Several alternatives such as highly effective polymers, which have better longevity and low VOC content, have led to increased competition for wood wax, especially in the corporate and residential buildings. Further, the relatively cheaper price of oils and varnishes has led to increased usage in the less per capita income countries, further limiting the usage of wood wax.
"Wood wax is one of the basic components in the complex formulations used for coatings, lubrication, and fillers among many others. Paraffin wood wax, being cheaper, is widely used in panelboards & wood coatings, and has majority of the market share. Bees wax and carnauba wax are budding, eco-friendly and premium range products, largely used in wood coatings. Green and the environment-friendly chemical trends are driving the market growth for them. Asia Pacific, currently dominates the wood wax market owing to higher manufacturing bases and increased usage of paraffin wood wax in panelboards, with maximum contribution coming from China," said Susmita, Research Analyst
Read more
@ https://www.infoholicresearch.com/report/wood-wax-market-trends-forecasts-2022/​
Key areas covered in the report
· Global wood wax market has been analyzed based on type
o Paraffin wood wax
o Bees wood wax
o Carnauba wood wax
· The study has a classification of applications
o Medium Density Fiberboard
o Particleboard
o Wood Coating
o Others (Oriented Strand Board, Lubrication, etc.)
· Industry outlook: market trends and drivers, restraints, and opportunities
Source: Infoholic Research
Share: